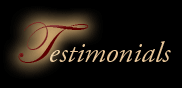 "I want to extend a heartfelt "thank you" to you and your staff for the time and effort which you have given toward the completion of the new National Aquarium kiosk. The many hours of careful construction and installation of the interior cabinets have resulted in a product which is durable as well handsome"
– William Donald Schaefer, Baltimore City Mayor
---
"Thank you so much for "helping us out" with our furniture restoration. I know the pieces were difficult, and we appreciate all that you did ….Since these pieces have been in the family for many years, we will be very happy to have them in our new home… Again, many thanks."
– Julia and Harry B.
---
"We just wanted to drop you a note to tell you how pleased Andy and I are with all of your work. Whoever said American craftsmanship was disappearing has never seen your work. You have good reason to be proud."
– Anne and Andy L.
---
"Many, many thanks! We are thrilled with the results."
– Joan
---
"I want to take this opportunity to thank you and your staff for the fantastic job you all did on our kitchen–we couldn't be happier with the workmanship. I will highly recommend your company to anyone. It is unbelievable what a difference it has made in our lives. Our kitchen is now the focal point of our house."
– Allan W. A.
---
"Your work, as usual, is magnificent. The clients and I are so pleased!"
– Lisa P.
---
"A short note to express our appreciation to you for the lovely built-in that you custom made for us…. We enjoyed working with you, your help in designing what we wanted, choosing color and installing when promised. Much success to you from a happy and satisfied customer."
– Betty and Arnold A.
---
"The cabinets are FANTASTIC! Both fit in perfectly and were made beautifully."
– Barbara
---
"There is little that we could say to you to further express our delight and enormous satisfaction than what has to date been said. Surely as we use the new office, we will become even more familiar with the incredible nuances and detail of each panel and cabinet door that only you so intimately know. I don't believe that I have ever been prouder of any project with which I've been involved. I can only imagine the pride and satisfaction you have derived. With that said, our appreciation for your magnificent "office-warming" gift overwhelms us. The statue will always be displayed and will serve as a constant reminder of your major part, your amazing talent and your friendship."
– Joan and Jon
---
"Thank you. The piece is terrific! We love it!"
-Linda
---